A culinary journey through Colonia Roma #TastingLifeStories
Are you coming to discover Mexico City for its foodie scene? Sabores Mexico Food Tours has created a life-changing culinary voyage. Today we had the honor to have Salima as our knowledgeable and fun tour guide. She has studied Ancient cultures thoroughly, she is very passionate about history, food and an incredible investigator of international relations.
This incredible day started at Tres Galeones for "Tacos de pescado", a delicious option to eat, and even for breakfast. Its menu offers tacos, of very varied ingredients but all fresh, like fresh fish; cheese and ham wraps; shrimp broth, and cebiche "tostadas", fried tortillas. Many dishes to choose from with ingredients from the sea. We tasted a "sope de camarón" a tiny fried tortilla with shrimp, and a breathtaking "taco de carnitas de pescado" a fried fish taco. For mexicans, carnitas are a recipe used for pork, but the cooks at Tres Galeones achieve the perfect balance savor with fish.
Our next stop was Café de raíz for "Comida huasteca", the mixture of the concept is somewhat complex. Café de Raíz is a gallery with Buddhist works, a bookshop with volumes of love and peace, and a coffee with the mystic wave of the new age, but revolted with the pre-Hispanic. The local mascot is a brown rabbit, perhaps because of the legend that tells how Quetzalcoatl threw one at the moon. The place serves as tamaleria. There is red pozole on weekends. It is successful: there are always writers working (friends of the owner, Mardonio Carballo) and it is a pampered stop in the cyclists. The neighbors are such fans that they take advantage of the rich breakfast / gossip every morning. The coffee is good. They offer an interesting method called American in "talega". This word comes from Arabic and means to hang up. Two wooden structures hold a circumference of metal in which a blanket is placed as a filter. There you put the ground coffee, add hot water and in 10 minutes you get a heavy black coffee. It has little body, but it is forceful and it wakes up. A plus point is that they make their own mix for chai tea.  Here we had the opportunity to taste tamales, the dough can be made of rice or corn and wrapped in a papatla leaf. We tasted corn, rice and bean tamales which were actually great!
We walked through Alvaro Obregon and Salima gracefully told us how the name of the streets of Roma were given. An awesome and interesting story you should definitely know about. The sun was starting to exhaust us until we got to La Graciela, a micro brewery where the love for beer (artisanal, almost needless to say) led Jaime and Rodolfo Andreu – creators of the delicious Tempus (a beer)  and owners of the El Depósito bar – to put a place that not only served their favorite drink but also manufactured it. This is how La Graciela was born, the first microbrewery-restaurant in Mexico City.  At first glance, the place seems small, but it extends into several rooms with dim lighting that invites you to stay. A great attraction is that the workshop is serious, and teach courses on how to make this drink. Obviously, they have their practical part and, who knows, that love for homemade beer could get infected. We tasted 4 types of beers which were all delicious!
Our next stop was Broka Bistrot– Contemporary mexican food, is a bistro hidden in the heart of Rome that exalts the restoration experience that gave rise to the concept of "restaurant". It is an oasis in the city that allows us to pause to comfort ourselves with a unique gastronomic proposal that highlights the expression of the ingredients offering a homemade menu of three times that changes day by day, as well as specialties and a gourmet à la carte menu. The word "Broka" means "brother" in the northern slang and emphasizes the close ties that the place seeks to build with its guests through a warm and festive atmosphere; Broka is distinguished by the creativity of its dishes and its hidden terrace that promise an unforgettable experience.
Here we tasted a cactus cebiche and a rabbit taco, YES, what you read, and it was mouthwatering….
We then stopped at Escollo for mezcal and Mexican food, and we had the great opportunity to meet the owner who explained to us that they have nearly 40 varieties of mezcal from different producers and an incredible kitchen. They will be celebrating 5 years at Roma and decided to make an anniversary dinner party. They believe in celebrating it with friends. That is why they invite great friends to this celebration that we want to share with you. Next Saturday, February 23, 2019 they will share kitchen with chefs Oswaldo Oliva (Lorea), Miguel Garcia (Barraca Valenciana), Julio Zainos (Alelí), Eduardo Lucero (Tu Ceviche) and Miguel Jimenez (Sabina Sabe) who present us a dinner of 5 times accompanied by each one of their beers. The welcome cocktail will be prepared by their dear friend Jako.
DATE: SATURDAY, FEBRUARY 23, 2019.
TIME: 20:00 HOURS.
PLACE: RESTAURANT ESCOLLO Querétaro 182, Colonia Roma, Mexico City, cp 06700.
Cost: $ 580.00 service not included. Reservations: 5264-4863 or email vaquero@escollo.mx
Our last stop was Mercado Roma, every year there is something in the city that everyone talks about, and 2014 was Mercado Roma, a three-story gourmet market, a project of Rojkind Arquitectos. The place is another example of gastronomic architecture, with remastered Mexican orange mosaics, a vertical urban garden on the terrace and design details that have enchanted many. Still, Mercado Roma stays a gastronomic referent where we tasted tlayudas , a handmade dish in traditional Oaxacan cuisine, consisting of a large, thin, crunchy, partially fried or toasted tortilla covered with a spread of refried beans, asiento (unrefined pork lard), lettuce or cabbage, avocado, meat (usually shredded chicken, beef tenderloin or pork), Oaxaca cheese, and salsa.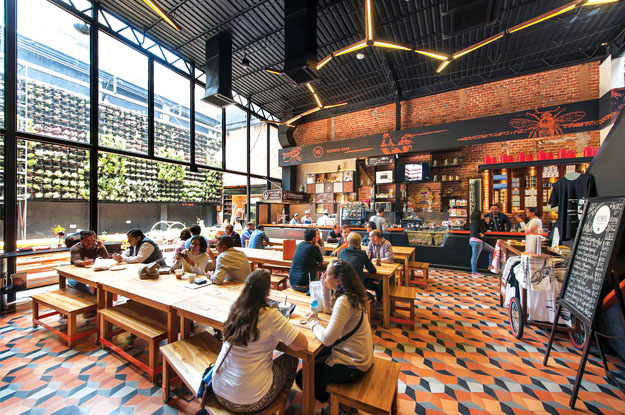 For dessert we had Consuelos from El MORO, a churro with ice cream filling, a perfect way to end this culinary journey.  The tradition of going to eat churros at El Moro prevails over the years. This place offers a small but exquisite menu: there are milkshakes, milk, coffee, soft drinks and churros. Their hot chocolates are famous, but you should pay close attention with the packages you choose. Spanish, for example, can be very sweet and thick. Read the small letters on the menu before you order. In times of rain, El Moro is a good place to enjoy time and enjoy a harmonious Mexican atmosphere. As if that were not enough, the one located downtown opens 24 hours a day.
Thanks Salima and Sabores Mexico Food Tours!!!!
by Carolina Díaz Valencia